Epic Google: Bigger Really Is Better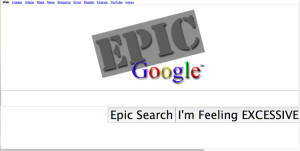 Epic Google is simply a version of the search engine where the individual elements—the buttons, the texts, the Google logo, every single thing—grows and grows before your very eyes until they fill up the screen and make your search practically illegible. It's fun to watch for about 5 seconds, but then after that (or after showing it to your friends and seeing their jaws drop) there's not much you can do.
Maybe it is important to point out that the epicness of Epic Google only works on the homepage: once you make a search, the results page shows the normal "non-growing" Google results. As with other "Google Easter eggs" or user-created modes of Google, Epic Google can be accessed by typing "epic google" in the search box and clicking the "I'm Feeling Lucky" button (I'm assuming the Instant Search feature is turned off). You can also visit it directly at the URL www.epicgoogle.com.
There is no denying that the creator of the Epic Google website earns a lot from the ads appearing on the results page. The results page is brimming with Google Adsense ads that I presume are from the account of the website creator. I am not trying to rain on my homie's parade, however: I merely mention it to point out why the normal and real Google has non-obtrusive placement of advertisements, whereas this one has ads all over the place.
But as we're on the topic of "epicness" and "Google" in the same sentence, we'd just as well talk about the company's real epic achievements and crashes.
<h3>Epic Google Successes</h3>
Of course, foremost among Google's epic successes is its eponymous search engine, so I won't delve too much into that. Next in importance, especially in terms of direct revenue, is its pervasive two-combo advertisement-serving system: the Adwords and the Adsense. These two services alone, which are by all means one and the same, rake billions of dollars in revenue for the company every year.
If you are selling something or you would like to promote an event or some happening, you use Adwords to blast your own created ad (text or images) to targeted users—you can specify which demographic, or country, or city or state, or language you want to target. Google Adwords' level of advertisement adjustment and serving has been unprecedented and unmatched, especially as it works with Google's almost omnipresent search engine results. As hundreds of millions of people use the search engine in almost each time they go online, you can imagine (although it may be difficult, considering its magnitude) the kind of boatloads of money Google earns from ads appearing on search results.
Google Adsense, on the other hand, provides the mechanism for online publishers or website owners to earn from the ads served by Adwords. So to put it quite simply, Adwords lets sellers create the ads, and Adsense lets online publishers display those ads and earn from them whenever someone clicks on an ad. The success of Google with these services is so massive that online advertising—to this day—takes up a huge chunk of Google's revenues—everything else is just icing on the cake. Such is the reason why the price of Google stock continues to climb, why it is able to operate globally in such "luxurious" circumstances, and why it can buy a lot of its smaller competitors or any internet startup it deems to have potential to change the world.
Before Adsense and Adwords, offering advertisements on a website was an incredibly confusing and complicated thing. Back in 2000, for instance, right before the Dotcom Bubble burst, we were trying to get advertisers for our website but we could not establish a standard way of charging them. We still thought in terms of print media, in the way newspapers did. It was not automatic, time consuming, largely fruitless endeavor. So the more you compare the online world before and after the emergence of Google's advertisement-serving system, the more you will appreciate what a gigantic—epic!—life-saver it really is.
Of course, there are numerous other epic Google successes that are worth mentioning: the Android operating system, Youtube and Google Video (although the latter is greatly overshadowed by the former), Picasa, Gmail, Google Earth, Google Maps, Google Moon, Google Body…the list goes on.
<h3>Epic Google Failures</h3>
Google is no omniscient god, however, and it makes mistakes every now and then. Especially when you consider the fact that almost everyday it buys up some small startup or company, or releases some little new services, you can understand the "attrition rate" with such new products.
Google's epic failures, on the other hand, do not consist of a single or a bunch of highly visible failed products; instead, such failures were "legion." There was Google Buzz, a social networking service integrated with Gmail—while you're logged in your email, you can chat and connect with your friends who were also using Gmail at that time. There was also that Google Powermeter, a free tool that allowed users to monitor their home's energy consumption anywhere as long as they were online. There was also the once-highly-promising Jaiku, which had been touted as the only serious competitor to Twitter. Guess what happened?
These are all dead or discontinued products by now, and the sheer number of these failed products makes them deserving of the "epic Google failure" category. On the upside, however, some of these "dead" products have been merely integrated into other Google products (such as how Picnik has been integrated into Google+).
At bottom, somehow I feel that the Epic Google third-party website serves as some sort of "paean" to the "epicness" of Google: the search engine, as an organization and a global business entity, is like a giant moving through a bonzai garden—every move it makes produces results of epic proportions. So in a way, I see Epic Google (and here I refer to the pseudo Easter egg) is some sort of tribute to the search engine's greatness, perhaps a "commentary" on the engine's continuing growth. At the very least, it's another fun way to search for information online.