When Larry Page and Sergey Brin decided on a whim to put a little Burning Man figure behind the Google logo back in 1998, they had no idea how much of a part of Google's identity the now-common Google Doodles would become. While most companies spend endless time and money to keep their image consistent, Google has gone the other way, making its variation one of the most beloved aspects of its identity.
In the past 14 years, the logo has changed temporarily over 1000 times, with the illustrations growing increasingly more elaborate and imaginative. The once simple tributes to special occasions and historic figures have evolved into animated, interactive features, and heartwarming odes to the people, places and things we love. It's certainly hard to pick favorites. The many dedications to artists, for example, are stunning recreations of the masters' styles, including Gustav Klimt, Claude Monet, Diego Rivera, Frida Kahlo, and Jackson Pollock. You could look at them all day. But this collection is the best of the best—the game-changers.
Here are the Top Ten All-Time Google Doodles:
10. Martha Graham's 117th Birthday Doodle (May 11, 2011)
Martha Graham's contributions created the entire movement of modern dance, and she is considered one of the 20th century's greatest creative minds. For her 117th birthday, Google Doodler Mike Dutton and artist Ryan Woodward created an animated series of dancing figures spelling out Google. The doodle is simple and elegant in soft shades of black-and-white, but also packed with references to her groundbreaking career. You can see it animated among the rest of the doodles in Google's animatronic Doodlezoo here. Or watch it here:
9. Particles Doodle (Google Instant Launch) (Sep. 6, 2010)
Particles, or Google Balls, was not only a feat of animation and engineering using just basic web tools, it was also one of Google's most debated mysteries. The logo was replaced by a series of colored balls that tend to cluster together in the shape of the word, but fly apart in response to the mouse cursor. It's fun and strangely relaxing. Upon posting, Google fans speculated what it meant, and designers debated how they created it. Google later revealed it was a teaser for Instant Search. Here it is in the doodlezoo.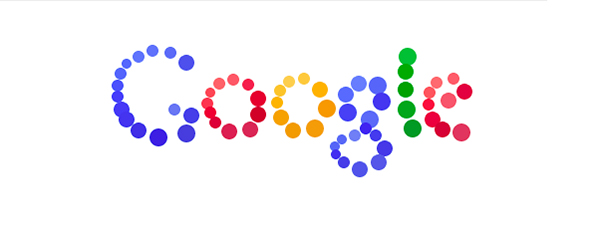 8. Star Trek, Sep. 8, 2012
The geeks at Google pulled out the stops for the anniversary of the original Star Trek series' first broadcast. This doodle was a mini-episode, which the user could move along by selecting highlighted elements on the animated set. One cool trick, when clicked, a ceiling vent in the transporter room spills out a pile of Tribbles from one of the show's signature episodes. The scene also references a "redshirt," the unknown cast member who tags along on missions, only to meet a grisly fate. You'll want to see it in all it's glory in the Google Doodlezoo, as the sound effects when you click certain areas of the doodle are worth the price of admission. It's right here(click the black screen to play the animation).
7. Freddie Mercury, Sep. 5, 2011
Regardless of your level of appreciation for Queen, this doodle is a treat. A musical clip in tribute to frontman Freddie Mercury—musical icon and GLBT hero—superfan and Doodler Jennifer Hom made this brilliant animated adventure to the song "Don't Stop Me Now." It took Hom four months to create the 8-bit-style sequence that involved racecars, spaceships and a battle with aliens. It's a joy to watch.
6. The Adventures of Little Nemo in Slumberland, Oct. 15, 2012
Winsor McCay may not be a household name, but to art and design fanatics, he is an incredibly influential icon who paved the way for modern comics and illustration styles. Another of Jennifer Hom's creations, it's an animated, interactive comic strip in the style of the Little Nemo character from the early 20th century. It's a dreamlike, beautiful sequence that takes the hero through whimsical scenes with the elements of the Google logo woven into the background. You can must see it as it lives and breathes in the Doodlezoo, as there is no way for us to recreate the truly cool and utterly wondrous (swoon!) journey of Little Nemo. Peep it here, ye of little innocence (and any others looking for a good time).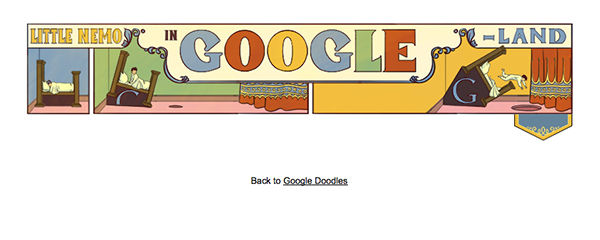 5. Stanislaw Lem (Nov. 23, 2011)
You may not know the name Stanislaw Lem, but he's considered one of the most influential names in modern sci-fi literature and his novel Solaris inspired three movies. To honor Lem, Google created a truly unique interactive doodle. It's an animated adventure consisting of a series of puzzles, and in the style of Daniel Mroz, who illustrated some of Lem's books. It's a fitting tribute, both mysterious and beautiful. We've framed it here for your surfing convenience, or you can check it out in all it's Doodly glory on Google's Lem Doodle page.
4. Les Paul Guitar (June 9, 2011)
To honor the inventor of the solid body electric guitar, Les Paul, Google created a fully playable, animated electric guitar. It's one of the most beloved of all the Google Doodles, and in 48 hours users recorded 40 million songs using the built-in recording device. You can strum the strings or play notes and chords using the keyboard, and soon after it posted, Internet users around the world were outdoing each other with how-to guides and versions of popular songs. We've framed it here for you, with a fresh helping of awesome sauce in awesome sauce
Mouse over the strings to git a-rockin'.
3. Turing Machine, June 23, 2011)
Alan Turing is really a perfect hero for the people at Google. Called the father of modern computing, he's a historically important, underappreciated figure with a truly fascinating story. To honor what would have been his 100th birthday, Google created a Turing Machine, which reflects the concepts of computing and algorithms that Turing established as the basis for modern computer functions. Designers and engineers spent more time of the doodle than they had ever spent at the time, creating 12 levels of programming puzzles to decode. It's a perfectly smart and mysterious doodle. Check it out in action at the Doodlezoo.
2. Google Pac-Man (May 21, 2010)
Google Pac-Man was a true game changer for the doodles. The playable logo set the bar for future doodles that would boost the web engine's image as a playful, constantly innovative user experience. But enough about user experience. You wanna play, don't you? It's cool, we've got you covered. Play Google Pac-Man right here.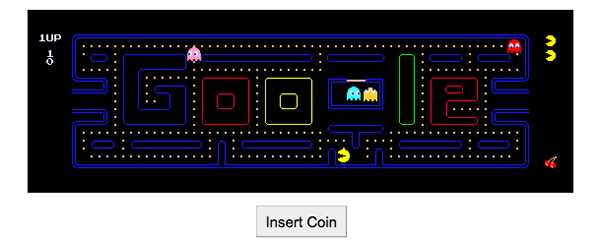 1. Moog Doodle (May 23, 2012)
Much like Paul and Turing, Dr. Robert Moog is an obscure but important figure in science and art. The doodle team called him the "patron saint of the nerdy arts," making him a natural hero for the people at Google. Moog is the inventor of the electric, analog Moog Synthesizer, an extremely complex device that changed pop and rock music forever. The device uses at least seven web tools to create a synthesizer with 21 knobs, wheels and switches and four different tracks to layer recorded sounds. For Bob Moog, who would have turned 78 when the doodle first posted, it's an impressive tribute from the Google team and the millions of users who devoted hours to tinkering and recording with the doodle. We've placed a perfectly nice image of the doodle below, but you'll want to play the real deal in the Doodlezoo Corral if you know what's good for you. And lastly if you want a little help from Moog Music's Quick Start Guide, you can view it superbig here, or download the pdf here.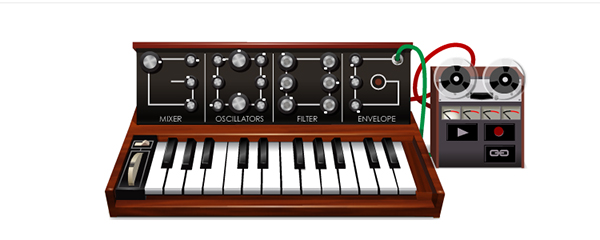 Well, I'm just going to have to burst out of my protective latex journalistic objectivity and say that it's been a real pleasure bringing all these super-awesome Doodles together, a bit of a love-fest if you will, what with all the the particular as well as cumulative talent and effort that went into these Google Doodly tricks treats, and the pleasure gotten from them by the millions of Google users and fans, not to mention the good will aimed toward the honorees of the Doodles themselves. It really is a bit awesome when you step back and take measure of the Google Doodle project and the value it has added to the Interwebz. *Sniff*. Ahem.
As I was saying. With any top 10 list one is forced by the constraints of the form to cut many deserving Doodles that one may have loved to include. One's only consolation being that there is no limit to the number of top ten lists allowed, as the list criteria need be only slightly altered in order to qualify as "top" once more. Top Doodles of 2012, for example. Or Top Musical Doodles, or Top Interactive Doodles, ad infinitum. That's just off the top of my head, yo.
Therefore, I say unto all you Google Doodle junkies out there, "Have heart! Stand strong! Chin up, intrepid Intarwebz sailors! These colors don't run!" and all that. We'll be back with more Goodle Doodle fun before you know it.